If you are an Engineering Student graduating in 2024 or 2025, who wants to get placed in Consultancy companies in profiles such as Business Analysts, Data Analytics, Data Science, Business Technology Consultant etc.
If you get selected then Get support from
Mentors
during
your
placement
 journey
We are selecting only 30 ambitious and curious students. Apply now before seats are filled. If you are selected, you will be approached by an UnsaidTalks representative.
Get
Placed

in Company like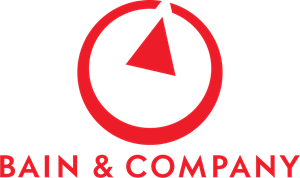 What is
UnsaidTalks

Mentorship

Program

(UMP)

for Consultancy?
UMP is a one month long program having multiple live sessions with industry experts which aims to provide all information related to interview preparation for companies like Deloitte, ZS Associates, Amex, Bain & Company, & etc.
Get support from mentors until you are placed
Who is this Program for ?
UnsaidTalks brings in people from the Industry to become your support mechanism until you are placed!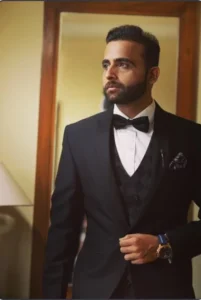 I am a data driven Product Manager, worked with American Express and ZS Associates earlier and also had a short stint with an internship in DRDO. I believe in hustling maximum & experimenting with your career to maximum to achieve a satisfactory life after 30.
Currently working as Associate Program Manager with experience majorly in business analytics, program management and on product side. I have worked in the healthcare, energy management and fintech sectors so far. I am an avid hiker and love to organize hikes and trips for my friends.
Hi there, This is Gifty from Amritsar. I am a BTech ECE grad from Thapar University (class of 2017) and MBA HR post grad from SIBM, Pune. I started my corporate journey with Deloitte as a Business Technology Analyst and then moved across industries to work as HR Generalist with ClearTax and now as HR Partner with Amazon.
Things I enjoy beyond work are cooking and yoga.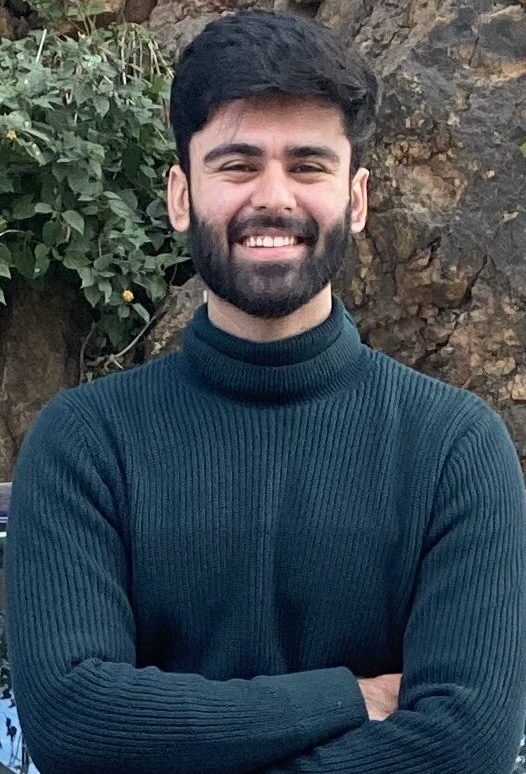 I have more than 5 years of data analytics experience in domains like customer experience, promotion and marketing, and fraud prevention.
I am skilled in technologies like SQL, Tableau, Python, and basic statistical concepts.
4 mentors over 6 live sessions will share what you should focus on to get Placed in such companies along with their personal experiences.
You will become part of exclusive community to interact with mentors & discuss your doubt during your journey of placement preparation with them until you are placed
Get into this program until seats last
Mentee Success 😍
Stories.
Inspiring Testimonials from Past Participants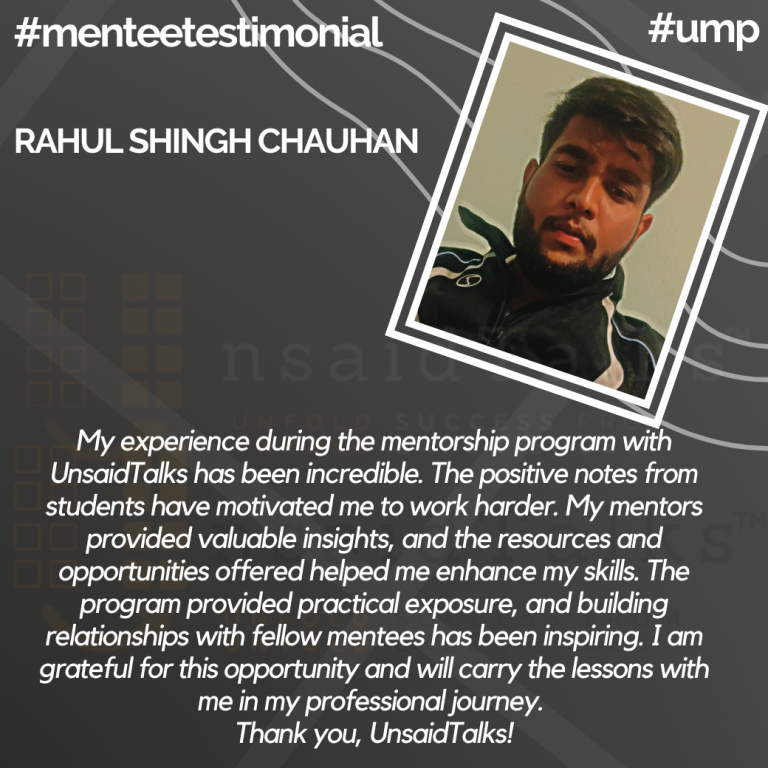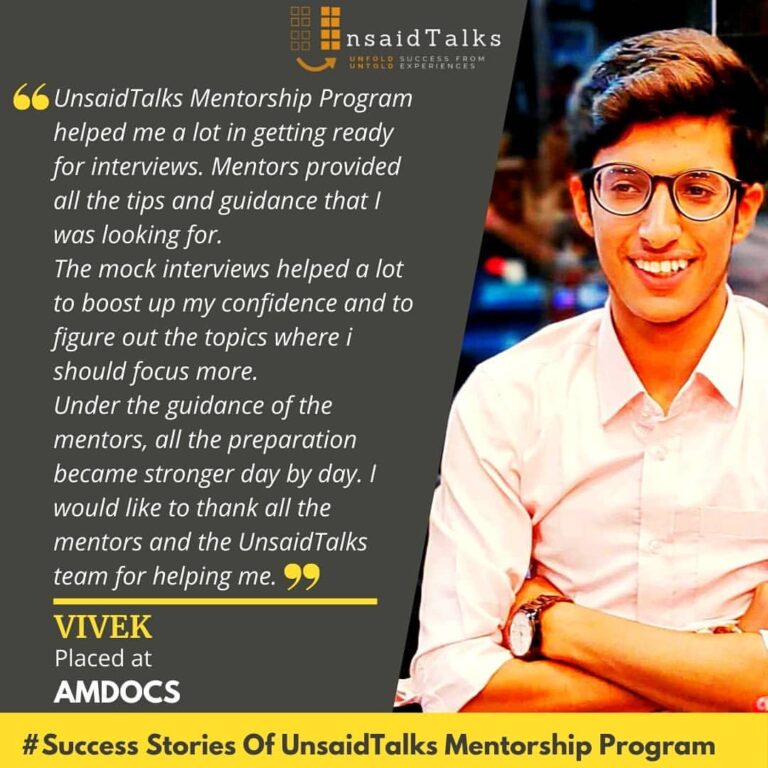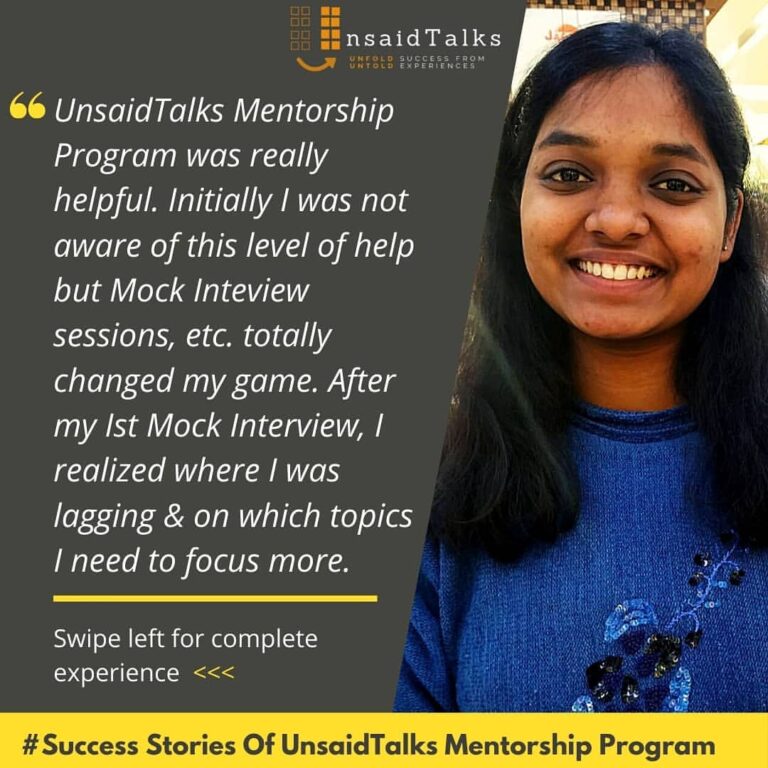 We will work with you until you are placed and support you during your whole placement journey until you get your 1st Job.
If you are not happy with the UnsaidTalks Mentorship Program and do not feel satisfied, simply reach out to us and we will provide a full refund (100%) of your payment.
An introductory
launch offer.

📢
All this comes @ special early launch offer of
Rs.5000
Rs.2000
only!
Program will start in the 1st week of September. Exact dates and timings will be shared to selected students one week prior to its commencement. We are only selecting 30 students for this program.
Fill the below form to apply. You will be shortlisted on the basis of your response. So please fill in the responses properly.
Frequently asked questions 🤔
Get Answers to Your Most Pressing FAQs

UnsaidTalks is for the ambitious Engineering Students who want to learn and grow everyday.
2023 UnsaidTalks.com
| All rights reserved.